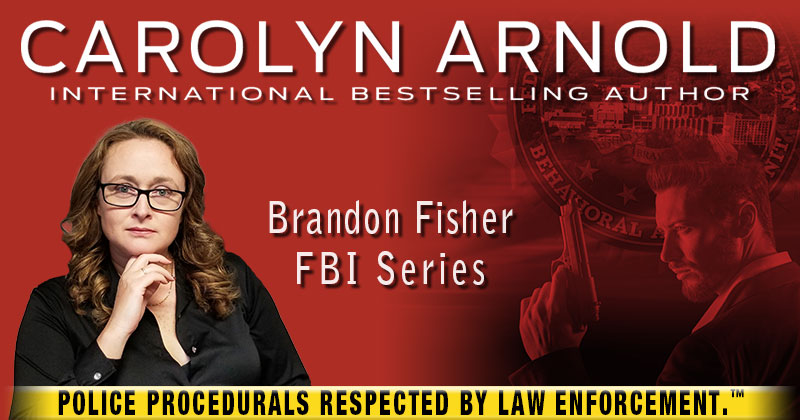 Brandon Fisher FBI Series
Profilers. Serial killers. The hunt is on. Do serial killers and the FBI fascinate you? Do you like getting inside the minds of killers, love being creeped out, sleeping with your eyes open, and feeling like you're involved in murder investigations? Then join FBI agent and profiler Brandon Fisher and his team with the Behavioral Analysis Unit in their hunt for serial killers.
This is the perfect book series for fans of JT Ellison, Catherine Coulter, Allison Brennan, and Blake Pierce. This series is also bound to entertain those who enjoy Criminal Minds, NCIS, Silence of the Lambs, Seven, Dexter, Luther, and True Crime.
Read in any order or follow the series from the beginning: Eleven, Silent Graves, The Defenseless, Blue Baby, Violated, Remnants, On the Count of Three, Past Deeds.
Rookie FBI Agent Brandon Fisher takes on his first investigation, and the serial killer turns their sights on him. Book 1 in the series.
$2.99 USD e-book
Instant Download
ePub and Kindle mobi
FBI Agent Brandon Fisher must stop a serial killer who plays out his twisted game of rape and torture, all in the name of "love." Book 2 in the series.
FBI Agent Brandon Fisher finds himself empathizing with a serial killer during an investigation in Denver, Colorado. Book 3 in the series.
The FBI team is hunting a serial killer who seems to be preying on women who define themselves by their relationships. Book 4 in the series.
FBI Agent Brandon Fisher sets out to prove the innocence of a fellow agent suspected of murder and finds himself on the hunt for a serial killer. Book 5 in the series.
The FBI team is sent to Savannah, Georgia, to hunt a serial killer and find themselves embroiled in a creepy psychological nightmare. Book 6 in the series.
​$5.99 USD e-book
​Instant Download
ePub and Kindle mobi
Being convicted of DUI vehicular homicide made her a target for a serial killer. Now she's missing. Can the FBI save her in time? Book 7 in the series.
$5.99 USD e-book
Instant Download
ePub and Kindle mobi
PRE-ORDER
FBI Agent Brandon Fisher and his team hunt a serial sniper, determined to put an end to her killing spree. Book 8 in the series.
Pre-order Now
$5.99 USD e-book
Official release date February 18, 2020
FBI Special Agent Brandon Fisher, early thirties, is the newest member of Jack Harper's team with the Behavioral Analysis Unit. A stereotypical redhead, his temper sits close to the surface, and dealing with Jack's need for perfection requires that Brandon use every ounce of self-control not to lash out. Sometimes he doesn't succeed, and he often takes out his aggression on a punching bag. His athleticism attracts the women—and often gets him into trouble.
FBI Supervisory Special Agent Jack Harper, midfifties, served with the military as Sergeant Major of the 7th Special Forces Group before coming on board with the FBI Behavioral Analysis Unit. Since his time in the service, he believes hell is on Earth and, as a result, tends to shut himself off emotionally. He very rarely shows his soft side. His two vices are smoking cigarettes and vodka martinis, the latter in more moderation than the former.
FBI Special Agent Paige Dawson, early forties, is a beautiful redhead who holds her own on a team with three men, but she's not averse to using her feminine wiles if it helps an investigation. An only child, she grew up in Atlanta, Georgia. She worked in the FBI New York field office for eleven years before teaching at the Academy for a year. She's been with the BAU for five years.
FBI Special Agent Zach Miles, midforties, has the IQ of a genius, but his sense of humor makes him down-to-earth. Women tend to like him but he plays it modestly. He loves to push Brandon's buttons and then sit back and watch him lose his temper…just a little.
FBI Analyst Nadia Webber, late thirties, works out of Quantico but is worth millions and doesn't really need to hold a job. Still, she'd rather be making a difference in this world, and if that takes the form of helping catch serial killers, she's in.
Praise for Brandon Fisher FBI Series
"I find that a lot of suspense books now days often make the lead character this perfect cop or agent who is rugged and tough, never backs down from a fight, always gets their man and almost seems untouchable. But the lead character in this book is far from any of those things. He is a new agent, he doesn't always know what to do, he has made mistakes in his past, he allows his emotions to rule him, and he seems to seek approval from his fellow agents as to whether or not he is a good agent.
"And what makes Brandon Fisher even better is the fact that he is surrounded by other characters you can't help but love. Such as Paige the strong willed agent who shares a personal history with Brandon and can more than handle herself in a world of evil. Zachery the smart agent who has a photographic memory and a bit of a sarcastic attitude. And Jack the supervisory agent who is rugged, tough, holds little to hope and has seen more than his fair share of bad crap. I can't wait to read what's next for this amazing team of agents!"
"Brandon is a vulnerable, worried soul… Jack Harper is a like a grumpy badass grandad, dripping with sarcasm and an obvious will to make sure Brandon steps up as a great agent."