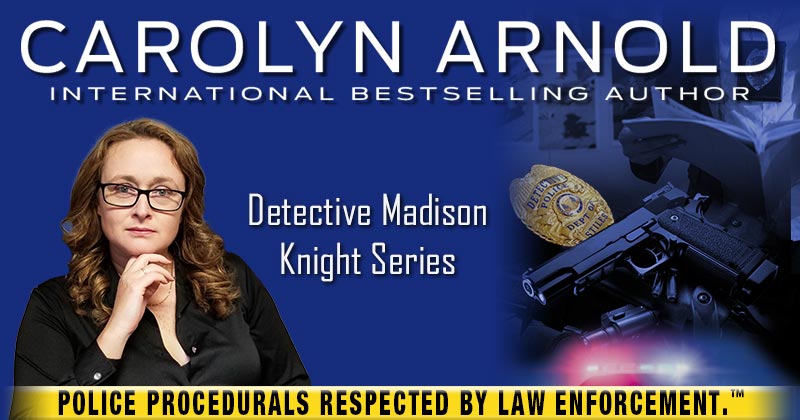 Detective Madison Knight Series
Murder. Investigation. The pursuit of justice. 
Nail-biting police procedurals for those who love their mysteries honest and true to life. These stories are praised and respected by law enforcement for their accuracy and pull readers into the investigations, enticing them to put the clues together and solve the case before the cops. Step behind the crime scene tape, enter the morgue, and get an up-close look at forensics with Detective Madison Knight. She's with Major Crimes for the Stiles Police Department—a fictional US city with authentic cases. She's fiercely independent and tenacious and will stop at nothing to get justice for murder victims.
It's always recommended that you start a series from the beginning, but you could read the books on their own or out of order. Installments include: Ties That Bind, Justified, Sacrifice, Found Innocent, Just Cause, Deadly Impulse, In the Line of Duty, Power Struggle, Shades of Justice, What We Bury, Life Sentence (Prequel).
Profanity: Mild with the odd slip to moderate
Graphic Violence: Mild to moderate

JD Robb, Michael Connelly, and Janet Evanovich.

Law & Order, CSI, Blue Bloods, and Women's Murder Club.
When an isolated incident turns into a hunt for a serial killer, Detective Madison Knight is not going to back down—even if it pits her against her superiors. Book 1 in the series.
$2.99 USD e-book
Instant Download
ePub and Kindle mobi
It's Christmastime, and this year murder doesn't take a holiday. The killing of a woman leads detective Madison Knight in many directions to find a killer. Book 2 in the series.
Detective Madison Knight will need to call upon her tenacity when the murder victim is the son of a local businessman who is "in bed" with the police chief. Book 3 in the series.
In trying to solve a new murder, Detective Madison Knight may have to dishonor the blue wall of silence when findings in a past case are called into question. Book 4 in the series.
Detective Madison Knight's obsession with a cold case comes to a deadly conclusion. With a rising body count, Madison finds out her own life is at risk. Book 5 in the series.
Three murders occur within the span of twenty-four hours, but Detective Madison Knight is adamant they're not looking for a serial killer. But can she prove it? Book 6 in the series.
A hero has fallen, and hard-edged detective Madison Knight will stop at nothing short of finding justice—even if it means risking her own life. Book 7 in the series.
Detective Madison Knight investigates the murder of the man who killed her grandfather, and she fears the Russian Mafia is behind it. Book 8 in the series.
Detective Madison Knight has risked her badge—and her life—in the pursuit of justice before, and she just might need to do so again. Book 9 in the series.
Detective Madison Knight is haunted by the discovery of a mysterious Jane Doe and the letters she wrote in her blood…GB. Book 10 in the series.
​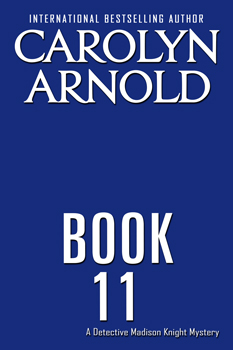 In the prequel to the Detective Madison Knight Series, defense attorney Bryan Lexan takes on a Russian mafia boss for a client and may be in way over his head. Bonus Prequel.
Praise for Madison Knight
"I watch a lot of cop shows on television and no one can match my love for Jack Ryan/Tom Clancy, but Arnold has written one of the best female cops that I've ever read. And yes, I love Eve Dallas and her yummy Roarke, but I connected with Madison on a more personal level… Madison is just one of those characters that will stay with you."
"Madison Knight is a tough, sassy, and intelligent detective. She is a straight shooter and takes no crap."
"Madison needs to work harder than the rest as she is a female in a male-dominated world. But she is very good at what she does… She is dedicated and really cares… It is a breath of fresh air when you have a kick a** female as a lead."
"Because of the strong, intelligent, gutsy Madison Knight, this series is my favorite…"
"Arnold had me hooked from the very first page of Ties That Bind and the reason for that was Madison Knight. Madison is an unconventional and feisty heroine and from her first appearance, grumpily eating a chocolate bar for breakfast, I adored her."
"Madison is a detective in the major crimes division; she is an extremely tough no nonsense cop. She doesn't care if she comes across as rude or abrupt; her main focus is finding the killer, even if she has so many obstacles along the way, including her own boss."
"Detective Madison Knight is very capable in more ways than one. She is career orientated and won't let anything or anyone stand in the way of her current case."
"Madison, is particularly headstrong and gung-ho and this makes for exciting fiction…"
"It's hard to be a successful woman in a man's world.  Madison is a stubborn, head strong, determined detective."
"Madison is a wonderful character that I think many readers will want to follow."
"Madison is a fun and interesting main character… She's what you'd expect from a female cop: tough, tom-boyish, sarcastic, fearless and intensely emotional and dedicated when it comes to her job. And yet she has a vulnerability that Carolyn does a beautiful job of illustrating just when you need to see Madison's softer side. She's lonely, as much as she refuses to admit it, and has deep regrets about her family that she can't shake. Put together with her tough-as-nails persona, it gives Madison the genuineness required of a principal character, and made it very enjoyable to walk beside her throughout the book."
"Madison Knight is a cop that does it her way, and won't let anything or anyone get in the way of that."
"Madison is a kickass detective who was fearless, strong-willed and tenacious. She followed all possible leads as she was committed to solving this case. She confronted everything head on. I loved how the author portrayed both her personal and professional life. It shows her struggling to gain approval from her mom who does not approve of her career choice. This showed that there is a sensitive side to her kickass detective who was fearless, strong-willed and tenacious. She followed all possible leads as she was committed to solving this case." —taken from her review of In the Line of Duty
"Detective Madison Knight…a seriously tough cookie but rightfully so. Madison had been through a lot in her life and it has taken her to the point that she has to shelter her heart and throw herself into her job. Not only that but since she is the only female detective within the department, she has to prove herself even more and her every move is watched to the most minute detail."
"Madison is an amazing character. She follows her gut instinct and doesn't just accept the easy answer especially when she is sure there is more to the story than can be seen."
"Arnold has created a strong female lead in Madison that you will come to not only respect for her tenacity to solve a crime, but her personal quirkiness as well. Madison is a well-rounded character that both men and women will enjoy reading about."
"Madison Knight is a well-rounded character with strong emotions and sharp intelligence…"
"Madison's character is extremely well-written and realistic. She encompasses what all women should strive to become–an independent thinker, strong-willed, dedicated, hardworking…"
"Madison Knight is a tough detective, who will let nothing stand in her way to find the guilty."
"I loved Detective Madison Knight's character. She was totally badass and goes in guns blazing!"