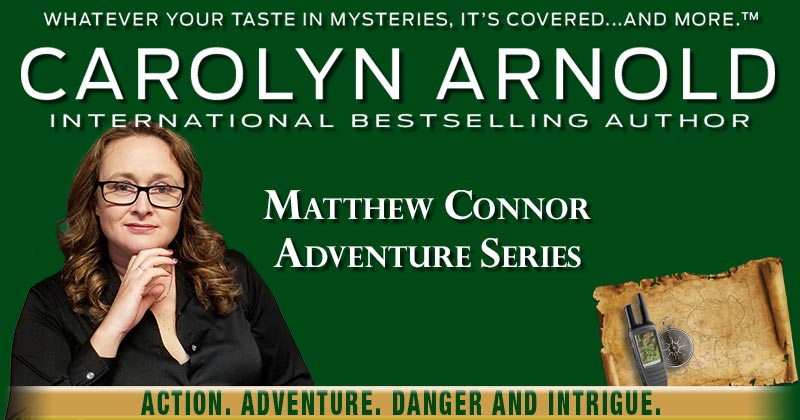 Matthew Connor Adventure Series

Action. Adventure. Danger and Intrigue. Legends are waiting to be discovered…dare to believe. Modern-day archaeologist Matthew Connor and his two closest friends are driven to uncover legends that the world has all but forgotten. If you dare, strap yourself in for a globe-trotting adventure today!
"Matthew Connor…a modern-day Indiana Jones." –The Reading Café
"Matthew Connor and his closest friends…make up a treasure hunting team, the likes of which would make Indiana Jones proud." –I Read What You Write! 
What readers say about books in the Matthew Connor Adventure series:
⭐⭐⭐⭐⭐ "If this was a movie series, I'd be the first in line to buy my ticket!!!" –Cinnamon Hollow
⭐⭐⭐⭐⭐ "I could picture this on the big screen. The darkness under the desert. The chill of opening hidden chambers. Being trapped with snakes all around you. No idea if help will come in time. Yep, it would be a great movie." –FuonlyKnew about The Secret of the Lost Pharaoh
⭐⭐⭐⭐⭐ "This is definitely akin to an Indiana Jones story set in modern times."–Martha's Bookshelf about City of Gold
⭐⭐⭐⭐⭐ "A thrilling and fun adventure that I recommend to anybody who loves the Indiana Jones movies and has always been intrigued by archaeological mysteries." –Just Olga about The Secret of the Lost Pharaoh
⭐⭐⭐⭐⭐ "If this novel isn't made into a movie, I will be VERY surprised!! It definitely reminded me of Indiana Jones (one of my favorite movie series of all times!!) There are enough thrills and twists and turns to keep the attention of any lover of adventure thrillers. –Miki's Hope about City of Gold
Archaeologist Matthew Connor and his friends Cal and Robyn set out in search of the Incas' lost City of Gold to save their friend's life. Book 1 in the series.
$4.99 USD e-book
Instant Download
ePub and Kindle mobi
Archaeologist and adventurer Matthew Connor and his friends set off for Egypt when a recent dig hints at the discovery of a lost pharaoh and the legendary Emerald Tablets. Book 2 in the series.
$4.99

$0.99 USD e-book for a limited time
Instant Download
ePub and Kindle mobi
Matthew Connor, the son of the mayor of Toronto, went to school for archeology, but at twenty-nine, he isn't using his diploma for digging up bones, but rather treasure. Not that he does it for the money or even to upset his father, who would prefer his son follow his footsteps into politics. Matthew lives for adventure, adrenaline rushes, and travel, especially to places most of us would be too afraid to go. His friends tend to look to him for direction and answers, and he's always in the lead when they're on an expedition.
Star sign: Libra
---
William Connor is Matthew's father and the mayor of Toronto. He's worth millions, and he owns the family home—a palatial 26,000-square-foot castle in the prestigious Bridal Path community—outright. Though he has suffered three heart attacks brought on from the stress of his career, he'd still love for his son to take up politics—or at least secure a normal job. Mayor Connor loves the finer things in life, and at fifty-three, he keeps himself in top physical condition. He has not remarried since losing Matthew's mother to cancer ten years ago and doesn't have much interest in dating—even if he does like his housekeeper.
Star sign: Scorpio
---
Robyn Garcia is a curator for the Royal Ontario Museum, but she accompanies Matthew on expeditions any chance she gets. With a deep love for culture and history, she brings an important expertise to the table when they're hunting down ancient relics from long gone civilizations. She has a soft spot for Matthew, as he does her, but she's determined to keep things between them platonic.
Star sign: Virgo
---
Cal Myers traded in his full-time gig as a wanderlust photographer for high-profile travel magazines and now tags along with his friend Matthew on treasure hunts. He still lives behind the camera; now he just does it from exotic places, capturing lost cities and relics. He's not quite as brave as Matthew, but he still loves a good adventure—and the paycheck sure beats what he used to make.
Star sign: Sagittarius
---
Sophie Jones is Cal's girlfriend of five years. She makes her living as a real estate agent in Toronto and doesn't involve herself with her friends' expeditions. She's not even a fan of Indiana Jones movies. She's strong-willed, independent, opinionated, and feisty—just the way Cal wants his woman to be.
Star sign: Leo
---
Daniel Iverson works for Mayor Connor as the house manager, and for Matthew as the point man for new excursions. He's responsible for finding new expeditions for Matthew to set out on. Of Norwegian descent, he's got steely gray eyes and a pleasant smile.
Star sign: Virgo
---
Lauren Hale is the Connors' housekeeper and a soft-spoken woman. She's plain by society's standards, but that's only one more thing that William actually finds attractive about her. She's a hard worker and loyal to the family.
Star sign: Pieces
---
Veronica Vincent is Matthew's former lover—even if for a night—and current nemesis. She's got looks and money, and knows how to use both to her advantage. Nothing is too underhanded for her, and unlike Matthew, she's into ancient relics and lost cities entirely for the profit. She's unscrupulous, and even though Matthew knows she's no good for him, when he gets too close to her, she can be his kryptonite.
Star sign: Taurus
Praise for Matthew Connor
"Matthew is a likeable guy, loyal to his friends, and hasn't bought into the materialism of his father. He has a good group of friends that he cares for and they care for him."